How To Dispose Of Sex Dolls
Sex toys representing human body parts were in wide use for many years. But over the last decade, sex dolls have taken over this world by storm and rapidly increased in popularity within a short period of time. These dolls are now easily available everywhere and can greatly vary in price range and quality.
When you first buy a sex doll for yourself, it can stay great and extremely pleasurable for quite some time. However, they do not last forever. Just like other products, sex dolls tend to lose quality when used for long periods of time. Sex dolls come with a certain product lifetime that can be used to have an idea regarding how long it is going to last. Some are more durable than other, but even if you buy the top-quality sex doll it is going to lose its new and fresh look with time.
Usually, sex dolls are made of highly durable material but over continued use this material loses its intrinsic nature and resultantly the sex doll does not remain as news as it was when you purchased it. There is bound to come a time when you have to part ways with your sex doll and look for a new one. Even if your sex doll is in a perfectly fine condition, there can be plenty of other reasons that can encourage you to dispose of your sex doll.
Now when you finally decide to get rid of your sex doll, a major problem arises. Sex dolls are not as tiny as dildos or vibrators and thus are not as easy to dispose of. You cannot simply throw them in the trash can outside your house. Sex dolls are almost the size of a real woman. Some bins are considerably small and thus cannot fit the sex doll inside. Apart from its huge size, it may seem particularly weird for a trash can to contain a sex doll. Therefore, in case you no longer want to use your sex doll, you will have to think of new ways of disposal.
How Long Does A Sex Doll Last?
According to experts, if a person takes care of the doll, she can last a very long time with regular use. However, you need to keep this in mind that sex dolls are high maintenance and must be treated careful so that they remain pleasurable for as long as possible.
Some individuals purchase a sex doll only for sexual pleasures only, while others might do it because they have difficulty finding a hookup to sleep with. In such a situation, a sex doll can fulfil all your sexual desires on lonely nights. There can be a number of different reasons why many people around the world would like to purchase a sex doll. However, they cannot really have a single doll for life, or maybe even more than a few weeks or months in extreme cases. Before we can roughly approximate the length of time a sex doll will last, we have to take a closer look at some factors that can affect their performance and longevity.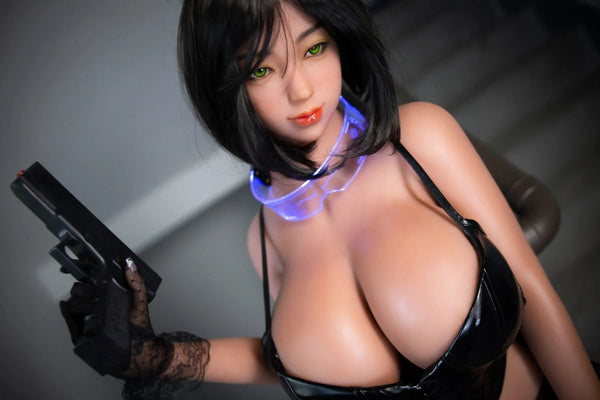 Usage
The time a sex doll can last depends on how it is used and the material it is made of. The manner and the frequency of usage can substantially reduce or increase the life span of the sex doll you are using. If you use it every day, it is bound to experience wear and tear very soon. More specifically, the vaginal area can easily wear down if the doll is not made of a high-quality material.
Maintenance
Lifespan of a sex doll can also depend on how well and frequently it is cleaned. Sex dolls must be cleaned thoroughly to avoid any kind of contamination. Bacteria and fungi can settle inside the doll, especially if you tend to ejaculate inside her body. Therefore, it is advised to clean the entire doll after every use. Otherwise, you will end up replacing your sex doll sooner than you think. Most realistic sex dolls come with a cleaning kit to help you maintain the product for long term.
If a doll is frequently used with average maintenance, it can be expected to last for one or two years. If it is adequately cared for and is only used occasionally, this number can surprisingly go up to ten years as well. Whenever you buy a sex doll, you have to perform proper maintenance for prolonged use.
Common Methods Of Disposal
Sex dolls made of silicone tend to be extremely durable and long-lasting. However, nothing lasts forever. When you finally decide that it is the right time to dispose of your sex doll, how exactly you do this depends entirely on its condition and your preference. You need to figure out multiple ways that can help you in unforeseen circumstance. Let us take a look at some common methods of sex dolls disposal,
Sell It Out
If you are not disposing of your sex doll because of low quality or wear and tear, it is always an ideal choice to sell it to someone else. There is a huge potential market for vending used sex dolls and other sex toys. Selling it will not only get rid of your sex doll for good, but also make you some good money with it.
Apart from typical markets or stores, you can search for someone online who looking to buy a sex doll. When you finally find someone who is interested, reach out and try to strike a deal as soon as you can. The sex doll you are selling should be properly cleaned and dried before the purchase is made. Without this, you can increase the risk of transmitting infections or other sexually transmitted diseases from seller to buyer. TPE dolls are specifically porous and must be used with extreme care. It would be better to mention this again that you should only go for this option of disposal if your doll is in a perfect condition.
Use Repair and Recycling Services
Your sex doll can be shipped to a repair and recycling service provider as well. Usually, sex dolls are made from commonly-used plastics. Plastics, as all of you should know, are not good for our environment. That is why it is recommended to always ship it to a company or enterprise that specializes in sex doll repair and recycling. There are individuals and companies actively looking for TPE material for sample and testing purposes. Sex doll suppliers can also be contacted for this purpose. Always remember to mention the manufacturing material so that you can avoid getting into unwanted situations. This will also enable the service provider to dispose of your sex doll as efficiently and effectively as possible.
Dispose It Of In Trash
This method is specifically useful for old dolls that cannot be sold out to new owners. Also, you will have to dump your sex doll in trash if it is too defective to be repaired. Please note that you should disassemble the doll into a number of smaller pieces. This way you can wrap her up in a moderately-sized opaque garbage bag that can be handled easily.
However, this is the least favorable choice of sex doll disposal as with this there is no surety that the sex doll is going to get recycled. This is inarguably the most inefficient way to get rid of your sex doll. But still, this is the most convenient method of all. Many municipalities have designated places for throwing away your junk. If there is no local dump available, you can always put her in the normal garbage pickup.
Other Methods
If you do not want to go with any conventional method when disposing of your sex doll, there are a couple of other ways as well.
Gift It To A Strip Club Or Theatre
If you really want to get helpful, there can be a number of ways you can benefit someone else while getting rid of your sex doll. It is always a nice idea to gift your sex doll to a strip club or drama theatre.
Find a theatre that might need a sex doll or a mannequin in one of their plays. As you can easily notice, sex dolls are strikingly similar to a regular mannequin apart from genitals. Therefore, with minimal modifications and alteration, your sex doll can be used by any nearby theatre or dramatics club as a dummy. With a quick rise in popularity of sex dolls, many strip clubs around the world have started to incorporate them in their services. You can contact ant strip club near your residence and ask them if they need one.
Donate It To Someone In Need
Your sex doll can be donated to a person in need. It can even be a homeless person you notice on the way to your office. Caring for a sex doll can prove to be the first step in re-introducing them to society. Even if you are not giving it to a well off person, make sure that the doll is in a perfect condition and is thoroughly cleaned. When in need, you can pass your sex doll on as a gift to one of your friends as well.
When To Dispose Of A Sex Doll?
Sometimes it can be pretty obvious when to get rid of your sex doll. Whenever you feel like you are not having a pleasurable experience, it is a strong indication that you have to either buy a new sex doll or need to start looking for some other alternative. Over time, sex dolls tend to lose their quality as their material degrades. Maybe you loved your sex doll at some point in time, but it is not something to hold on to, forever. Your sex doll can easily be replaced with a newer model having better features and build quality.
When it comes to using sex dolls safely, cleanliness and hygiene are of key importance. You should dispose of the doll when you start noticing holes, cuts, nicks or deteriorating seams. Bacteria tend to stick around and accumulate in any cuts on your sex doll. From there, it can easily enter your body as well.
If your sex doll starts to lose its shape, chances are it has fallen victim to heat. If this happens, your doll should be immediately disposed of. Another good indication of knowing when to dispose of your sex doll is its primary color. When it starts to fade, it means the material is fading too. Eroding material can cause microscopic fissures which provide multiple entry points for germs and dust to get into your sex doll and ultimately your own body. Thus, it is recommended to dispose of your sex doll as soon as you can whenever you notice one or more of the aforementioned signs.
Conclusion
Proper disposal of your sex doll is vital for all those involved in this process. It is really important to maintain high standards of hygiene and care. If you plan to sell, make sure that the doll is in a perfect condition. Even if you are throwing it out in the garbage, keep this in mind that trash too is handled by people at different stages. Be sensitive and always dispose of your sex doll in an adequate condition. Some people have been known to dispose of their sex doll by throwing them into trenches and water bodies. This should not only be prohibited but strictly discouraged as well. Be responsible and always dispose of any sex toy in a mature and informed manner.
All good things come to an end. Disposing of a sex doll is not something anyone would like to think about when purchasing one. However, it should still be in the back of your mind to do it in an acceptable manner, whenever the time comes. Being environmentally conscious when doing so would be even more virtuous.
---